---
Clinical Trial: Cow Hocks
---
Chelan's Case History
---
Continued - Page 2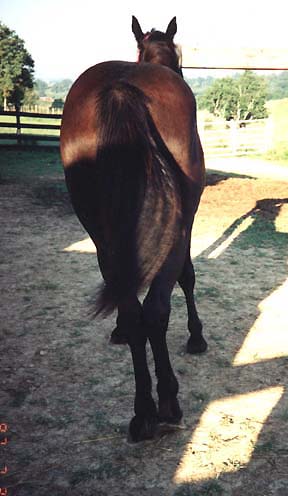 Chelan as a Yearling
Note weakness of her right hind and consequent forward placement of left front in a "tripod" stance - characteristic of environmental illness which most often affects the right hind.
---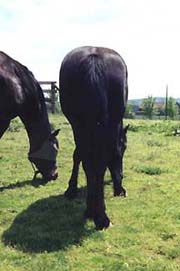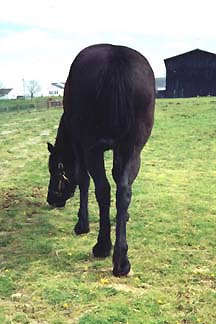 Chelan in March, 2000 at the beginning
of her Vita Royal program
Again, notice her tripod stance as she stands and moves ahead. Now at four years old, still no change from her yearling stance, as this is not something "they grow out of."
---

Chelan's Progress in April and May

At left, Chelan was showing improvement by April 28. At right, on May 8 she shows more muscle definition over previous photos over the croup area - strengthening, and less toe out behind with widening of her stance.
---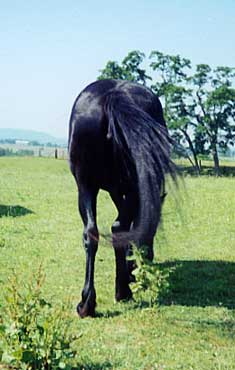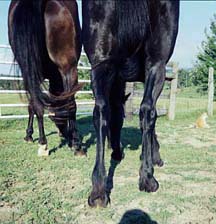 Chelan's progress in June and August

On June 29th we see a definite widening of her stance. Also note that her feet are not pointed out as much as before.
---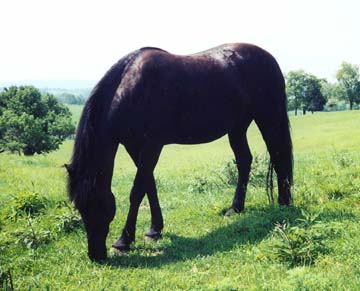 By August 12th her stance is now normal with beautiful conformation.
---


Linsey McLean's comments

on Chelan's continued progress

On July 24, 2000 Chelan was taken off the environmental program and put on a simple maintenance program. But as of September 1, her stance began to degenerate in her stall. She was immediately put back on the Environmental Illness program and her stance is once again wide and square.

The fact that Chelan relapsed when taken off the original Environmental Illness program demonstrates that environmental toxins that probably created her "cow hocks" in the first place are still present in her environment. The focus is now directed to identify and eliminating these toxins.

Owner: Kate Hester's update, January 18, 2001

Chelan's clinical trial was over in July, 2000. Her cow hocks returned, and so she went back on VR's program and improved again, but has been off VR's since October and completely relapsed into cowhockedness. She has just started back on VR the past few days, when Linsey sent stuff for everyone, and she is beginning to ripple up noticeably. I am hoping that the detox period will be much shorter than it was the first time around, and that her cowhocks will soon be gone for good.
---
© 2011 Vita Royal Products Inc.